Swimmingpool
Spa
Sauna
Pool Billiard
Table Tennis
Table Soccer
Trampoline
Basketball
Terrace
Beach
Facilities
Whether you prefer physical activity or tranquility for body and soul, you'll have both possibilities at Caprice Spa.
Please find hereafter an overview of the facilities of the house.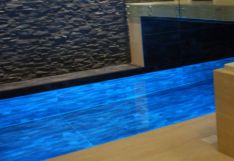 Swimming pool
One of the highlights of the house is the superb swimming pool with counter current unit. According to your wishes the pool can be heated to 24- 29 degrees. The slate walls and the big tiles in the pools lead your thoughts towards a clear, blue mountain lake. Who can resist?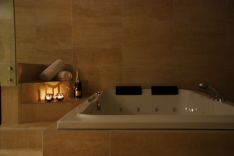 Spa
After a swim in the pool you can enjoy a soft massage in the hot water of the Spa. There's plenty of room for 2 adults or alternatively 2 adults and 2 children.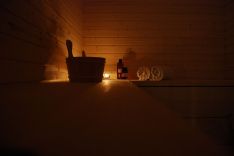 Sauna
After a chilly walk in the autumn time or a long day with sightseeing you can warm up your body and relax in the sauna.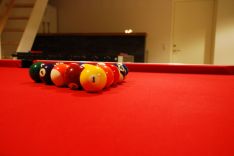 Pool Billiard
In the activity room the pool billiard table invites you to spent convivial hours with friends and family.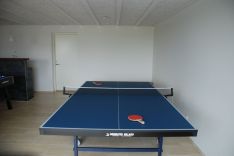 Table Tennis
Anybody fancy a hectic and exiting game of table tennis?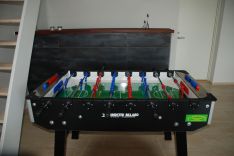 Table Soccer
Table Soccer is a fascinating and funny game for all ages.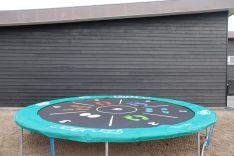 Trampoline
The trampoline installed on the big lawn will certainly attract small guests but adults will also get out of breath.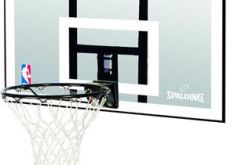 Basketball
A basketball hoop has been installed - a guarantee for fun and exercise.
Terrace
The southwestern terrace invites to sunbathing, common meals and long evenings around the barbecue.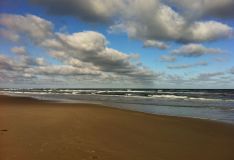 Beach
The wonderful beach at Nr. Lyngby is surrounded by dunes and cliff sides. The beach (9 km long) is perfect for swimming, fishing, sunbathing, long walks or enjoying various beach and water activities. You can bring your car directly onto the beach.